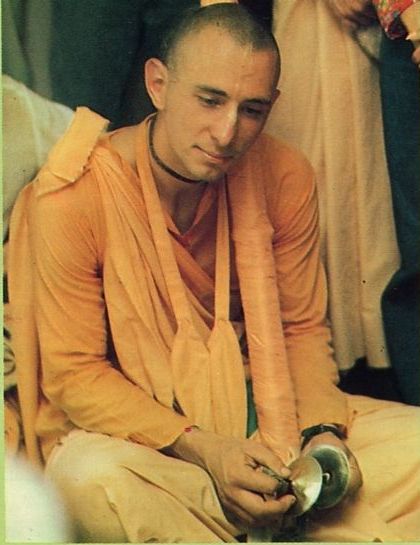 This morning I was doing a little internet searching and revisiting some of my favorite sites. This took me to The Prabhupada Connection. For some reason I clicked on the Editorial Notes and began reading some of the essays. I was a big fan of Visnujana Swami, as was everyone, and I enjoyed reading this memory by Padmapani Prabhu.
When Visnujana Swami led kirtan in Stanley Park, hundreds of people encircled our  party, all transfixed by his melodious chanting. Usually we might have a couple of dozen onlookers in attendance for harinam, but this was a monumental occasion. The devotees twirled and jumped and danced with great abandon. The sense of harmony amongst us was real and palpable. The swelling crowd was a testament to the infectious joy of chanting Hare Krsna in unity and love.
A Time for Reflection
by Padmapani das
When I first joined the Vancouver temple in 1973, a devotee explained to me that everyone who comes in contact with Krsna is a great soul, a mahatma. He told me that even the postman who delivers Krsna's mail is very special and should be respected. I was in total awe. 
Continue reading