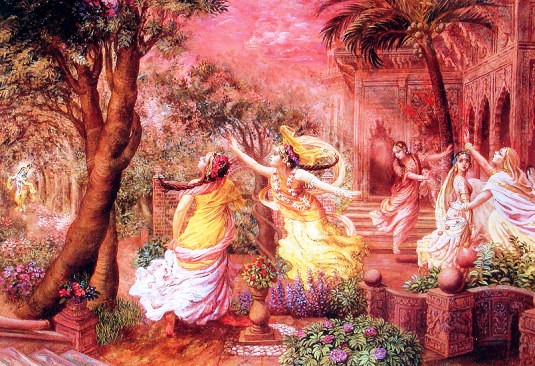 The transcendental Scent of Kṛṣṇa's Body
excerpted from; Sri Caitanya-caritamrta
Antya-lila 19
…Śrīmatī Rādhārāṇī expressed to Her gopī friends how She hankers for the transcendental scent of Kṛṣṇa's body. Śrī Caitanya Mahāprabhu recited that same verse and made its meaning clear.
" 'The scent of Kṛṣṇa's transcendental body surpasses the aroma of musk and attracts the minds of all women. The eight lotus like parts of His body distribute the fragrance of lotuses mixed with that of camphor. His body is anointed with aromatic substances like musk, camphor, sandalwood and aguru. O My dear friend, that Personality of Godhead, also known as the enchanter of Cupid, always increases the desire of My nostrils.'
"The scent of Kṛṣṇa's body surpasses the fragrances of musk and the bluish lotus flower. Spreading throughout the fourteen worlds, it attracts everyone and makes the eyes of all women blind.
"My dear friend, the scent of Kṛṣṇa's body enchants the entire world. It especially enters the nostrils of women and remains seated there. Thus it captures them and forcibly brings them to Kṛṣṇa.
"Kṛṣṇa's eyes, navel and face, hands and feet are like eight lotus flowers on His body. From those eight lotuses emanates a fragrance like a mixture of camphor and lotus. That is the scent associated with His body.
"When sandalwood pulp with aguru, kuṅkuma and musk is mixed with camphor and spread on Kṛṣṇa's body, it combines with Kṛṣṇa's own original bodily perfume and seems to cover it.