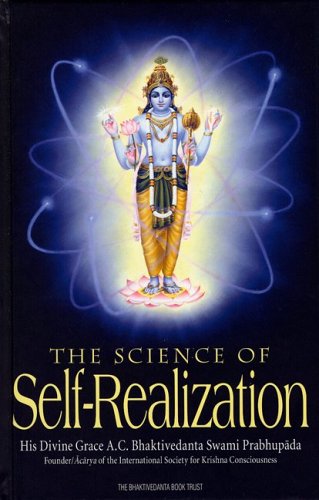 The Science of Self Realization
by His Divine Grace A. C. Bhaktivedanta Swami Prabhupāda
Meditation and the Self Within
excerpted from Chapter 5
Can meditation solve our everyday problems? Is there life after death? Can drugs help us achieve self-realization? During a visit to South Africa in 1976, Śrīla Prabhupāda answered these and other questions for interviewer Bill Faill of the Durban Natal Mercury.
Śrīla Prabhupāda: Kṛṣṇa is a name for God that means "all-attractive." Unless one is all-attractive he cannot be God. So Kṛṣṇa consciousness means God consciousness. All of us are small particles of God, equal in quality with Him. Our position as living entities is like that of a small particle of gold in relation to a large quantity of gold.
Mr. Faill: Are we something like sparks in a fire?
Śrīla Prabhupāda: Yes. Both the fire and the spark are fire, but one is big, and the other is very small. Unlike the relationship between the spark and the fire, however, our relationship with God is eternal, although at the present moment we have forgotten that relationship due to contact with the material energy. We are facing so many problems only because of this forgetfulness. If we can revive our original God consciousness, then we shall become happy. This is the sum and substance of Kṛṣṇa consciousness. It is the best process by which to revive our original God consciousness. There are different processes of self-realization, but in the present age of Kali, people are very fallen, and they require the simple process of Kṛṣṇa consciousness. Now they are thinking that so-called material advancement is the solution to their problems, but this is not a fact. The real solution is to get out of the material condition entirely by becoming Kṛṣṇa conscious. Because God is eternal, we are also eternal, but in the material condition we are thinking, "I am this body," and therefore we must repeatedly change from body to body. This is due to ignorance. Actually we are not our bodies but spiritual sparks, parts and parcels of God.
Mr. Faill: Then the body is just like a vehicle for the soul?
Continue reading