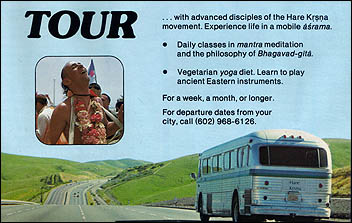 My good friend over at the Prabhupada Connection recently posted an article I had written some years ago. Seeing it again inspired me to post it here as well. Many thanks to Padmapani Prabhu for his years of dedicated service to Srila Prabhupada and the community of devotees.
Radha Damodara Traveling Sankirtan Party
by Vyasasan das
First let me begin by offering my respectful obesiences to all the Vaisnava devotees of the Lord, who are so merciful to the fallen conditioned souls that they put themselves in perilous and austere conditions of life voluntarily, in order to help others. And as always, let me offer my most humble obeisances to my beloved spiritual master A.C. Bhaktivedanta Swami Prabhupada, who is very dear to Lord Krishna, haven taken shelter at his Lotus feet.
I had the great fortune to be a part of the Historic RDTSKP in the years 1975-1976. What great and extraordinary personalities did I encounter in that time of my life. There was the legendary Vishnujana Swami who could bring the Hare Krishna revelers to a state of ecstasy with his vibrant and enthusiastic chanting. And his speaking was like honey dripping from the vine, so sweet and relishable. Then there was the remarkable Jayananda Thakur, so devoted to Srila Prabhupada's mission that most of us never saw him sleeping. He woke me in the morning by touching my feet or shaking my leg and shouting jiv jago, jiv jago, gauracanda bole, "wake up sleeping soul, wake up sleeping soul, Lord Gauranga is calling! How long will you sleep in the lap of the witch called Maya?" Jayananda taught me what it meant to be a disciple of Srila Prabhupada by his enthusiastic and never ending service. Whether he was taking out the trash, or making 500 Simply Wonderful sweet balls for the festival, he was caught up in a world of joy and devotion. And of course there was Tamal Krishna Goswami, so powerful a personality, you just couldn't 'say no to Tamal'. And my dear friend 'the rascal' Gurudas Swami, who tricked me into shaving up and traveling on the bus for the next year by promising to introduce me to George Harrison "the Beatle". But I love him dearly because through his cunning trickery, I instead got to meet His Divine Grace Srila Prabhupada. And Gurudas was a gifted storyteller, and could entertain devotees and guests alike for hours with his gifts of "Prabhupada Katha".
Continue reading