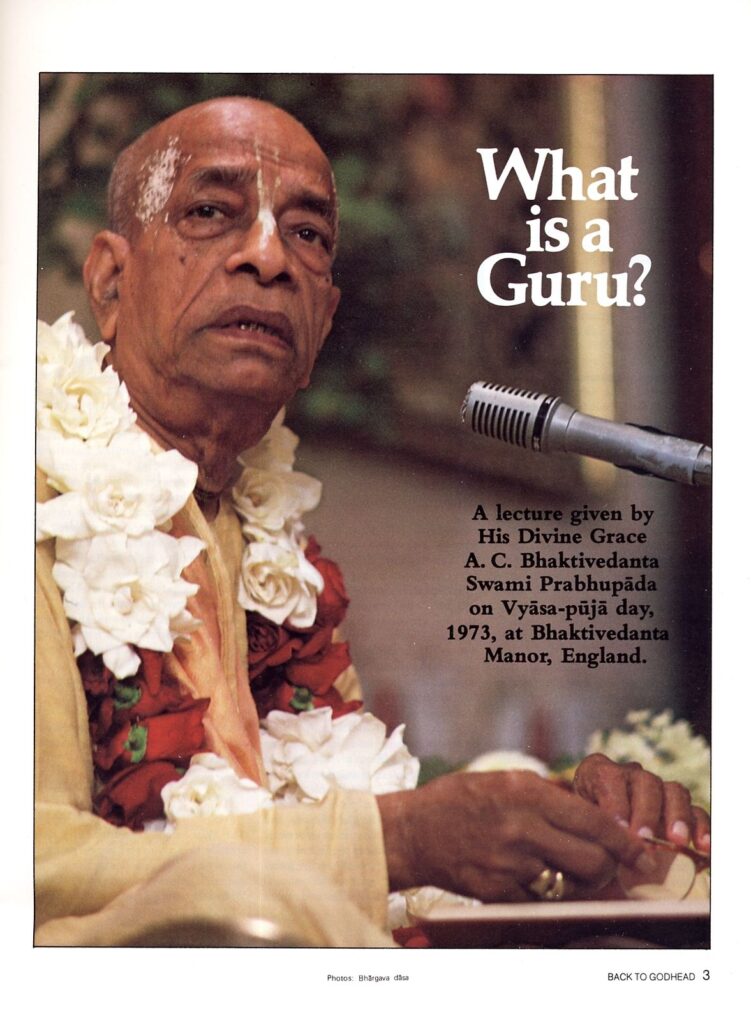 The following lecture was first published in Back to Godhead Magazine in1975 Vol. 10, No. 8

om ajnana-timirandhasya
jnananjana-salakaya
caksur unmilitam yena
tasmai sri-gurave namah
"I was born in the darkest ignorance, and my guru, my spiritual master, opened my eyes with the torch of knowledge. I offer my respectful obeisances unto him."
The word ajnana means ignorance or darkness. If all the lights in this room immediately went out, we would not be able to tell where we or others are sitting. Everything would become confused. Similarly, we are all in darkness in this material world, which is a world of tamas. Tamas or timira means darkness. This material world is dark, and therefore it needs sunlight or moonlight for illumination. However, there is another world, a spiritual world, that is beyond this darkness. That world is described by Sri Krsna in Bhagavad-gita:
na tad bhasayate suryo
na sasanko na pavakah
yad gatva na nivartante
tad dhama paramam mama
"That abode of Mine is not illumined by the sun or moon, nor by electricity. One who reaches it never returns to this material world." (Bg. 15.6)
From Darkness to Light
The guru's business is to bring his disciples from darkness to light. At present everyone is suffering due to ignorance, just as one contacts a disease out of ignorance. If one does not know hygienic principles, he will not know what will contaminate him. Therefore due to ignorance there is infection, and we suffer from disease. A criminal may say, "I did not know the law," but he will not be excused if he commits a crime. Ignorance is no excuse. Similarly, a child, not knowing that fire will burn, will touch the fire. The fire does not think, "This is a child, and he does not know I will burn." No, there is no excuse. Just as there are state laws, there are also stringent laws of nature, and these laws will act despite our ignorance of them. If we do something wrong out of ignorance, we must suffer. This is the law. Whether the law is a state law or a law of nature, we risk suffering if we break it.
Continue reading