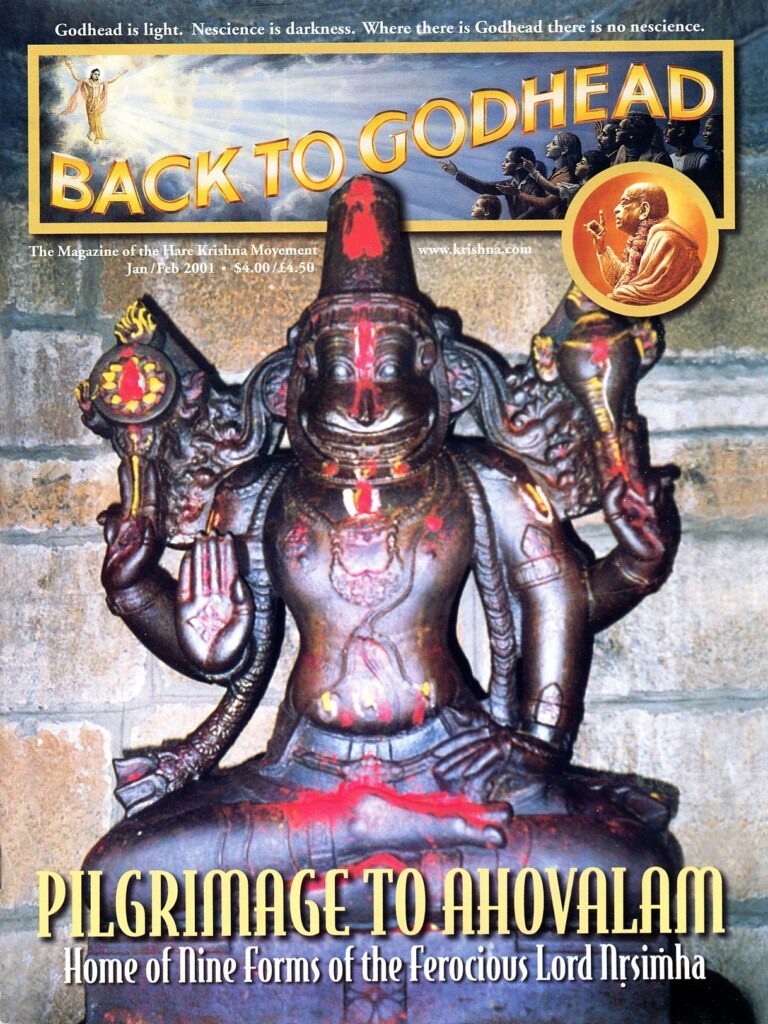 Years ago I remember reading this article in Back to Godhead Magazine, and thinking what a brave young man this was. Years later I meet Dhruva das and was very impressed with him, he was very genuine and devote. For some reason, I always remembered this article and planed to revisit again someday.
Ahovalam—Revisited
A young Krsna devotee sets off on a dangerous journey to ancient temples of his lifelong deity.
by Dhruva Dasa
In 1980 I was born to devotee parents in the large Hare Krsna community of New Vrindavan, West Virginia. From my infancy my parents brought me to the temple each day. Gradually, as a young child I grew attached to the large, fierce-looking deity of Krsna's form as Lord Nrsimhadeva (Narasimha) and His foremost devotee, the boy-saint Prahlada. When I was six, Prahlada's age, the priest allowed me to assist him in the temple worship of Lord Nrsimhadeva. Although the Lord looked frightening, I always felt protected when I stood before Him.
When I was sixteen my family visited India. I fell in love with the spiritual atmosphere there and decided to return as soon as possible. By the time I turned eighteen I had decided to make the journey on my own. I worked hard to save for the trip and agonized over my itinerary. India is so big—where should I go?
One day I visited the Hare Krsna temple in Miami. As I glanced over a large stack of old issues of Back to Godhead, a stray breeze blew open the top one to a full-page photo of Lord Nrsimhadeva. The picture seemed to beckon me. Reading the accompanying article, I was amazed to learn about a young sannyasi, Indradyumna Swami, who had made an incredible journey to Ahovalam, a remote South Indian holy place said to be the very spot where Lord Nrsimhadeva dispatched the evil Hiranyakasipu. His article inspired me so much that I set my mind then and there on making the difficult pilgrimage to Ahovalam.
Continue reading