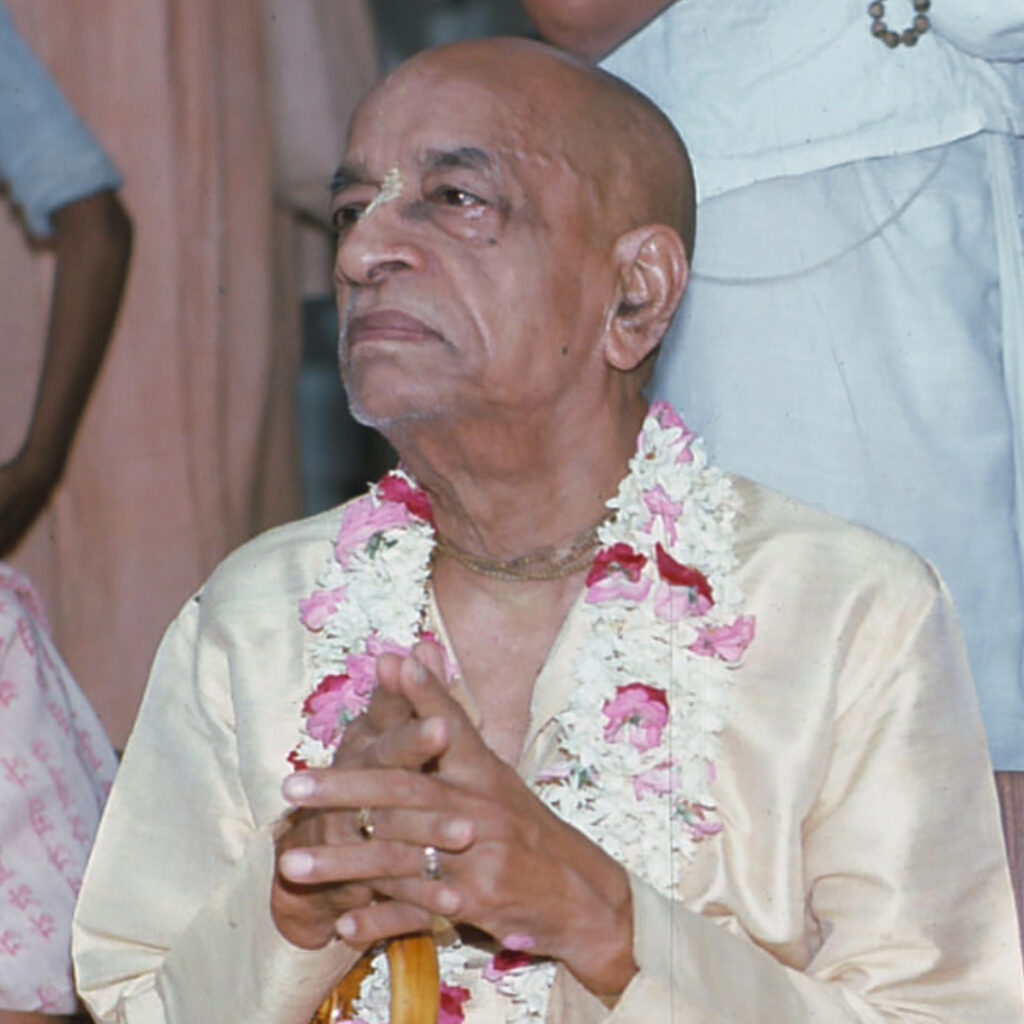 …Almost every Vaisnava and aspiring Vaisnava in the Western world is indebted to Srila Prabhupada, who made the ultimate sacrifice for us all. No matter our personal doubts, at least we can afford him the respect and love that he so rightly earned and so richly deserves in a public forum read by people all over the world.
Respecting Srila Prabhupada
by Padmapani Prabhu
As disciples and followers of His Divine Grace A.C. Bhaktivedanta Swami Prabhupada, Founder-Acarya of the International Society for Krsna Consciousness, we all have an eternal debt to Srila Prabhupada for his unprecedented sacrifice in freely distributing the mercy of Lord Caitanya Mahaprabhu all over the world.
At great personal inconvenience, Srila Prabhupada left the peaceful and holy village of Vrindavan at the advanced age of 69 to travel by steamship across the Atlantic Ocean, suffering two heart attacks en route to New York City and arriving with less than seven dollars in his pocket and with no help from anyone except his beloved Lord Sri Krsna. Almost immediately upon his arrival after more than 30 days at sea — traveling by freighter and not by plane or luxury cruiser — Prabhupada began his preaching work as ordered by his spiritual master, His Divine Grace Srila Bhaktisiddhanta Sarasvati Thakura. Rather than focus on the wealthy or privileged class of society, Srila Prabhupada — an educated and scholarly master of the Vedic literatures — chose to humbly deliver his message to the poorest of the poor in the Bowery and later in the Lower East Side of New York City. In spite of his exalted position as an authorized representative of the highly esteemed Brahma-Madhva-Gaudiya-Sampradaya in direct disciplic succession from the Supreme Personality of Godhead, Lord Sri Krsna, Srila Prabhupada always remained humble and respectful to everyone — especially to those whom he endeavored so hard to help with his personal instructions, encouragement and unlimited patience:
"I am very poor and I have nothing to return for your loving service, but I can simply pray to Krishna for your gradual advancement in Krishna Consciousness. I think that is the best blessing which we can have in this material existence." (Srila Prabhupada letter, October 21, 1968)
Continue reading