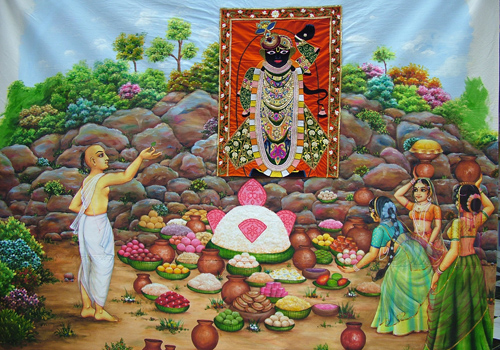 Today marks the annual celebration of Lord Krishna's lifting Govardhana Hill to protect the residents of Vrindavana from the wrath of Indra. Typically devotees prepare varieties of foodstuff with grain and ghee (like rice, dhal, halva, pakora, puri etc.) and all kinds of milk preparations (such as sweet rice, rabri, sweetballs, sandesha, rasagulla and laddu). The food is stacked like a small mountain and offered to the Lord. Then it is distributed to everyone.
Of all the devotees, this Govardhana Hill is the best! O my friends, this hill supplies Krishna and Balarama, along with Their calves, cows and cowherd friends, with all kinds of necessities: water for drinking, very soft grass, caves, fruits, flowers and vegetables. In this way the hill offers respects to the Lord. Being touched by the lotus feet of Krishna and Balarama, Govardhana Hill appears very jubilant. (Srimad Bhagavatam 10.21.18)
Devotees also worship the cows on the day of Govardhana Puja. Krishna is known as Gopala – the protector of cows. There is also a prayer in Vishnu Purana (1.19.65) that states: namo brahmanya-devaya go-brahmana-hitaya ca. Here Krishna is described as the well-wisher of the cows and the brahmanas. The cows are decorated and fed well. Keeping the cows in front, devotees circumambulate the Govardhana Hill.