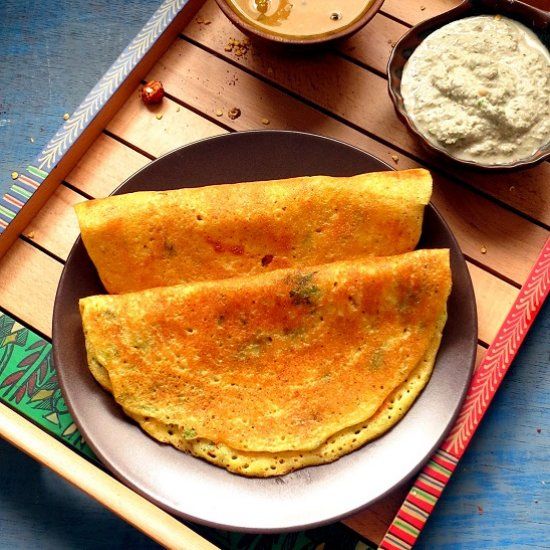 This Sunday morning, as most Sunday mornings, I cook and offer the Lord either nice egg-less pancakes or waffles. But because my wife made a large cake last night, I opted to go with a more savory pancake. The following recipe is taken from "Great Vegetarian Dishes" by Kurma Dasa. I followed the recipe for the most part…but because I didnt have hot green chilies or fresh coriander leaves on hand I substituted them with green peas and green pepper. It was the first time I ever made them but they turned out great.
Check out Kurma Dasa's website Cooking with Kumar for other great vegetarian recipes. Or look for his cookbooks.
Savoury Wholemeal Pancakes (Dosa)
Each country of the world has many varieties of pancakes, and India is no exception. Each region has its favorite versions, dosas are a favorite in South India. Whereas traditional dosas are quite large, this following recipe presents smaller pancakes to fit a household pan. And whereas traditional dosas are prepared from varieties of dal and rice combinations, these are prepared from basically just chapati flour, spices and fresh herbs. Serve these slightly crisp pancakes with tomato chutney, mango pickle or plain yogurt.
Recipe follows;
2 cups sifted chapati flour or wholemeal flour
1 tsp yellow asafoetida powder
1 1/2 tsp salt
1/4 tsp baking power
3 hot green chilies, finely choped
1 table spoon of finely chopped fresh coriander leaves
melted ghee or oil
1) Combine the flour, asafoetida, salt, and baking powder in a bowl and mix well. Add enough cold water to form a smooth, pouring batter. Fold in the chilies and chopped coriander leaves. Set aside for 15 minutes before cooking.
2) Brush a (8-inch) cast-iron frying pan or other type pan with ghee or oil, and when hot ladle in about a 1/4 cup of batter, and immediately tilt it to spread the batter evenly. Drizzling a little ghee or oil around the edges of the dosa…cook until the edges brown and the bottom turns golden brown (about 3 minutes). Flip the dosa over and again drizzle a little ghee or oil around edges, and cook for another 1 1/2 – 2 minutes. Serve either flat