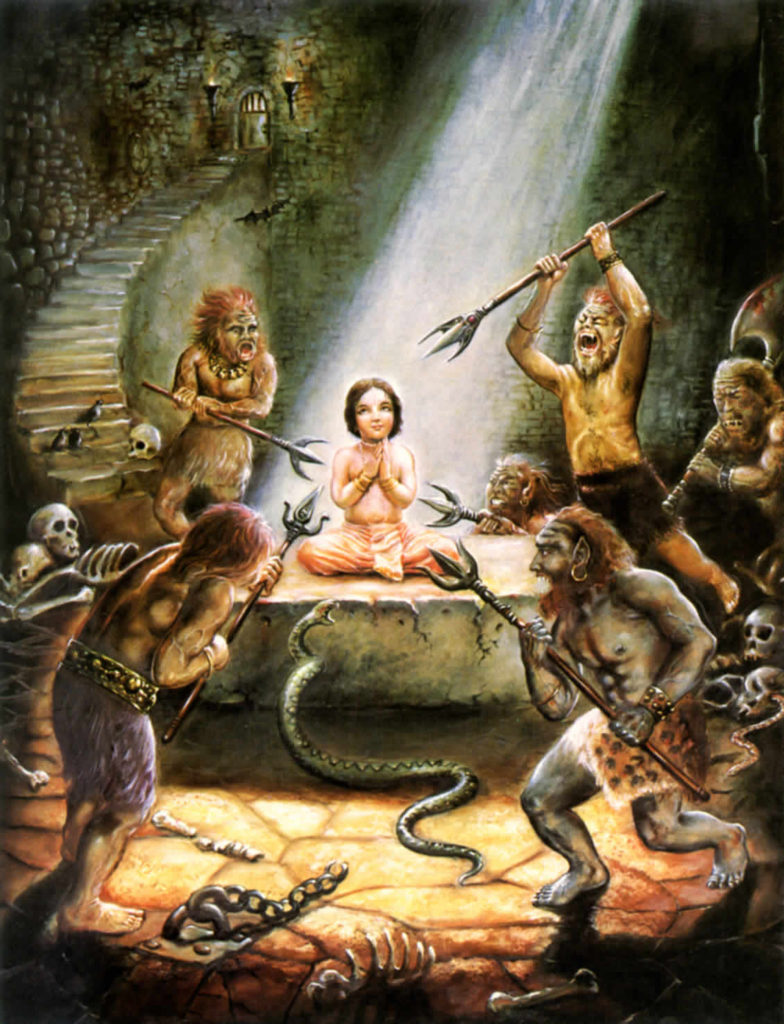 Prahlāda Mahārāja loudly chanted the holy name of Lord Nṛsiṁhadeva. May Lord Nṛsiṁhadeva, roaring for His devotee Prahlāda Mahārāja, protect us from all fear of dangers created by stalwart leaders in all directions through poison, weapons, water, fire, air and so on. May the Lord cover their influence by His own transcendental influence. May Nṛsiṁhadeva protect us in all directions and in all corners, above, below, within and without.
Prayers to Lord Nrsimha
Lord Nrsimha is the incarnation of Lord Krsna that appeared to protect his young devotee Prahlada. He appeared as half-man half-lion and killed the envious, atheistic demon, Hiranyakashipu who was materialism personified (hiran-gold, kasipu-soft bed). Devotees pray to Lord Nrsimhadeva for protection and to kill their material desires.
namas te narasimhaya
prahladahlada-dayine
hiranyakashipor vaksaha
shila-tanka-nakhalaye
I offer my obeisances to Lord Narasimha, who gives joy to Prahlada Maharaja and whose nails are like chisels on the stonelike chest of the demon Hiranyakasipu.
ito nrisimhah parato nrisimho
yato yato yami tato nrisimhah
bahir nrisimho hrdaye nrisimho
nrisimham adim sharanam prapadye
Lord Nrsimha is here and also there. Wherever I go Lord Nrsimha is there. he is within the heart and is outside as well. I surrender to Lord Nrsimha, the origin of all things and the supreme refuge.
tava kara-kamala vare
nakham adbhuta-shringam
dalita-hiranyakashipu-tanu bhrigam
keshava dhrita-narahari-rupa
jaya jagadisha hare
O Kesava! O Lord of the universe! O Lord Hari, who have assumed the form of half-man, half-lion! All glories to you! Just as one can easily crush a wasp between one's fingernails, so in the same way the body of the wasplike demon Hiranyakasipu has been ripped apart by the wonderful pointed nails on your beautiful lotus hands.