This is a little History on the purchasing of the Bhaktivedanta Manor in 1973 by George Harrison who was working with Dhananjaya Prabhu to secure a preaching center in Watford, just outside of London England.
Dhananjaya Dasa: By the end of 1972, nothing had happened. Prabhupada wrote to me, "Better to take the upper hand and begin very energetically attempting to get some place. Expending energy for Krishna, that is appreciated and not the actual result of our energy. But if there is lack of energy being devoted for some purpose, then everything will be delayed and possibly stopped. Better to seize the iron while the fire is hot, that my Guru Maharaj used to tell me."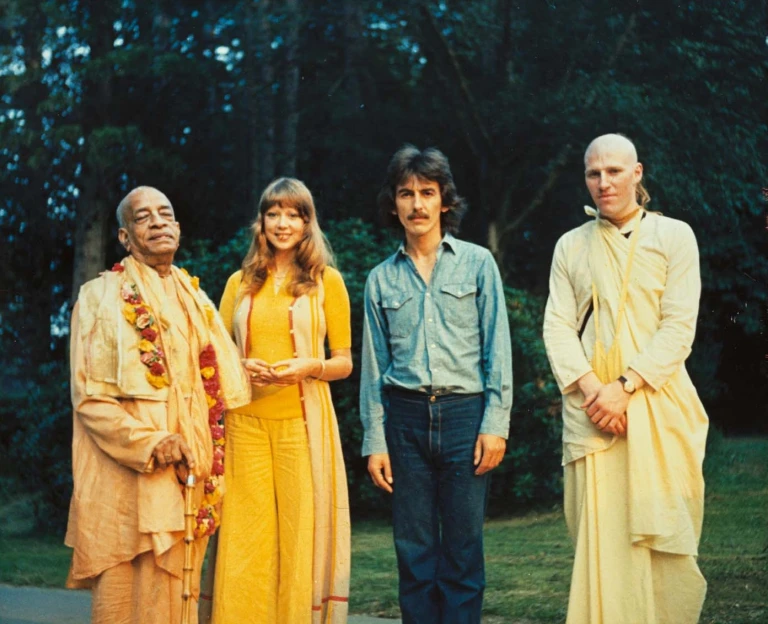 Prabhupada presumed that the iron was getting a little cold. Then in January of 1973, in a freezing cold, miserable British winter, we got information about a property called Piggot's Manor in Letchmore Heath, 17 miles from central London. This was the one and only time I didn't go as a devotee, with a shaved head, dhoti, tilak and kurta, but went disguised with trousers, coat and hat. The previous property George and I had looked at was an amazing health spa outside of the city of Oxford with an indoor heated swimming pool, a beautiful conservatory, saunas and mud baths and more than a hundred acres of land. The asking price was 330,000 pounds. After George saw that property he said, This is a bit rich for you people, isn't it? You're supposed to be renunciates. Even I would have a hard time remaining Krishna conscious in this environment."

Then we got the details on the Manor, which was being sold for 220,000 pounds,10,000 pounds cheaper than the previous property.
This time George didn't come but I phoned him from a pay phone in what is now the Manor temple room and I described the details and the price. He said, it's a lot cheaper than the previous property. what do you think? I said, I think it's a fabulous place. He said, All right, I trust your judgement. I can't come to see it because we're having some meetings in Los Angeles with Allen Klein, our financial advisor, about selling the Apple Company. George gave me the names and phone numbers of legal people who could do the paper work to buy the property, and said, phone them up, tell them that you want to secure this property, and when the transaction is complete, I'll come and see it.
The paperwork took about six months. George had set up a foundation called the Material World Charitable Foundation. He said, the profits from the Living In the Material World LP album will go towards paying for that property, but it'll go through my foundation. And that's what happened, the Material World Charitable Foundation paid for the property and the agreement was that we would pay 10 pounds a year rent. which is called a peppercorn rent. It's the absolute minimum that you can pay for a costly property.
We acquired the Manor from a Scottish lady, Mrs. Ruffles, who was from Aberdeen, a city in northern Scotland. The story is that the Scots are quite mean, but even in Scotland, people from Aberdeen are called Aberdonians, and are considered extremely mean. Before we moved into the property, Mrs. Ruffles removed every single doorknob from every single door. She removed a pair of brass lion's head doorknockers from the front doors to the house. She removed all the pelmets and siphoned off , all the diesel fuel (for the central heating) from the tanks. Mrs. Ruffles took away all the coal for the fireplaces. When Prabhupada went on an inspection, there were a couple of doors we couldn't open because there were no doorknobs or door handles or anyway to open the doors, so we had to show him those rooms later on. When we showed him his quarters upstairs. with its huge living room, a huge old-fashioned bathroom and a comfortable bedroom, he was happy. He said, "Yes, this is a nice facility for the spiritual master.