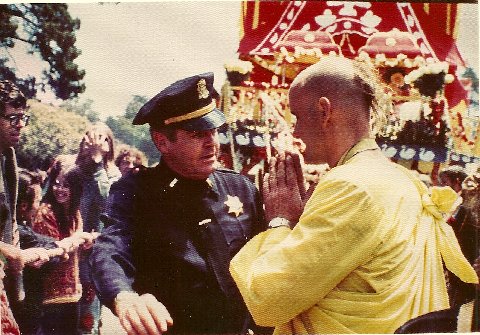 Today marks the disappearance day of my dear friend and Godbrother, Jayananda das. Srila Prabhupada wanted us to honor his memory. In a letter he wrote shortly after Jayananda's passing, Srila wrote:
Letter: Ramesvara
77-05-11.Ram 318337/530501
Jayananda's death is glorious. It is very good that he had stated, what is the use of such a useless body, better to give it up. He has left his body very wonderfully, and he has been transferred to Vaikuntha. I have already sent a condolence letter for publication in Back To Godhead. Everyone should follow the example of Jayananda. I am very proud that I had such a nice disciple. If possible Jayananda's picture should be hung in the ratha of Lord Jagannatha, and in all of our temples a day may be set aside for holding a festival in his honor, just as we do on the disappearance day of the other great Vaisnavas.
We should remember him and his service to Srila Prabhupada. He was an inspiration to all he met.