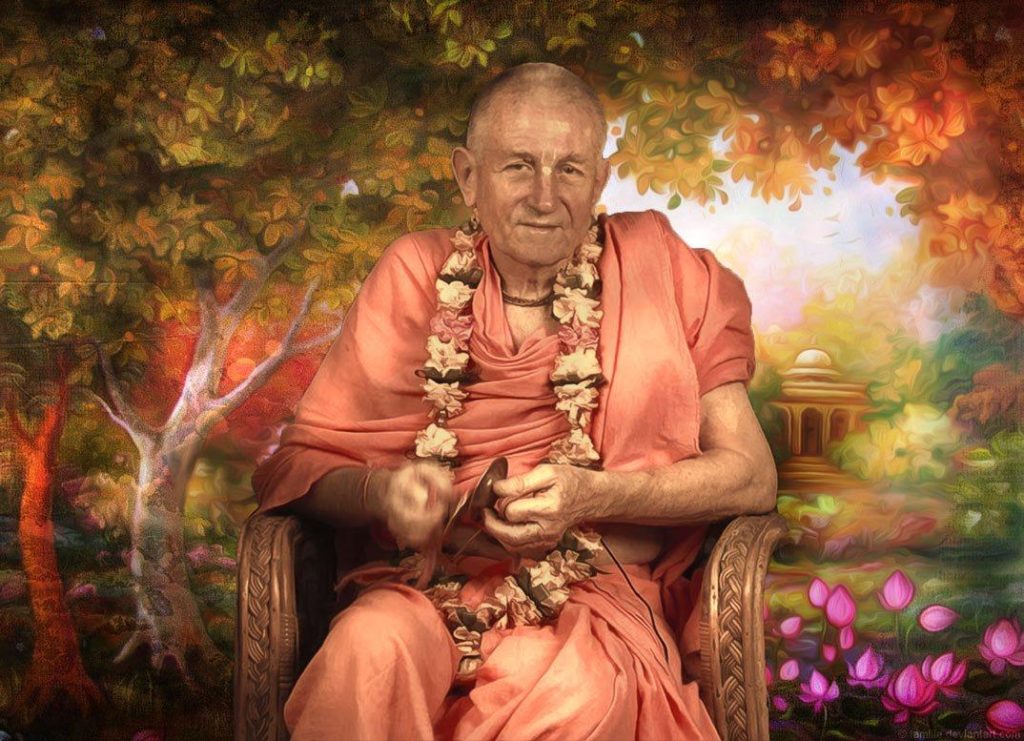 It is with great sadness that we report the passing of His Grace Pankajanghri Prabhu, the beloved Nrsimhadeva pujari, and twin brother of His Grace Jananivasa Prabhu. He died of Covid-19 complications in Mayapur, India.
HG Pankajanghri Prabhu has Departed
By the GBC Executive Committee
Dear Devotees,
Please accept our humble obeisances. All glories to Srila Prabhupada.
HG Pankajanghri Prabhu, ISKCON's most beloved Nrsimhadeva pujari, has departed from this world in Sri Dham Mayapur.
Having joined ISKON in the footsteps of his twin brother, HG Jananivasa Prabhu, in 1973, the two brothers dedicated their lives to serving the Lordships of ISKCON's International Headquarters in Lord Caitanya's divine abode of Sri Mayapur.
Pankajanghri Prabhu served not only the Lord, but devotees worldwide, who would turn to him in their time of need, begging him to offer their hearts' prayers at Lord Nrsimhadeva's feet. Every devotee who has visited Mayapur Dham will hold fondly the image of Pankajanghri Prabhu standing on Nrsimhadeva's altar, offering prayers and puja on behalf of the devotees, and in turn, offering the Lord's mahaprasadam to the devotees.
Not many of us, however, were aware that in the background, Pankajanghri Prabhu was also managing the pujari department for many years, ensuring that the service to Their Lordships continues efficiently while expanding and deepening exponentially. We are all indebted to Pankajanghri Prabhu for the great inspiration we derive from the beautiful darshans and festivals that can be experienced only in Sri Dham Mayapur.
Pankajanghri Prabhu also graced the devotees with weekly classes on Srimad-Bhagavatam and Caitanya-caritamrita. He was a founding board member and inspiration for Mayapur Academy, an international school for brahminical training, where he taught the proper mood and method of deity worship to hundreds of students as instructed by Srila Prabhupada.
Along with fifty years of steadfast service as a pujari, manager, speaker, and educator, Pankanjanghri Prabhu was also a dear brother, uncle, and friend to both the Mayapur community and ISKCON worldwide. Today is a heartbreaking day especially for the generations of Mayapurvasis who grew up in the affectionate shelter of such a loving and playful uncle.
It is rare indeed to find a personality with the combination of such dedication, humility, joviality, and kindness. As Srila Prabhupada himself said in 1976, "The two brothers Pankajanghri and Jananivasa – there is no comparison."
We join the worldwide family of Vaisanvas, especially HG Jananivasa Prabhu and the Mayapur community, in grieving the loss of a beloved godbrother and friend while simultaneously feeling gratitude for the mercy of Sri Nrsimhadeva, who kindly brought His dear servant home to Sri Dham Mayapur for a glorious departure befitting a dedicated devotee like Pankajanghri Prabhu.
Hare Krsna,