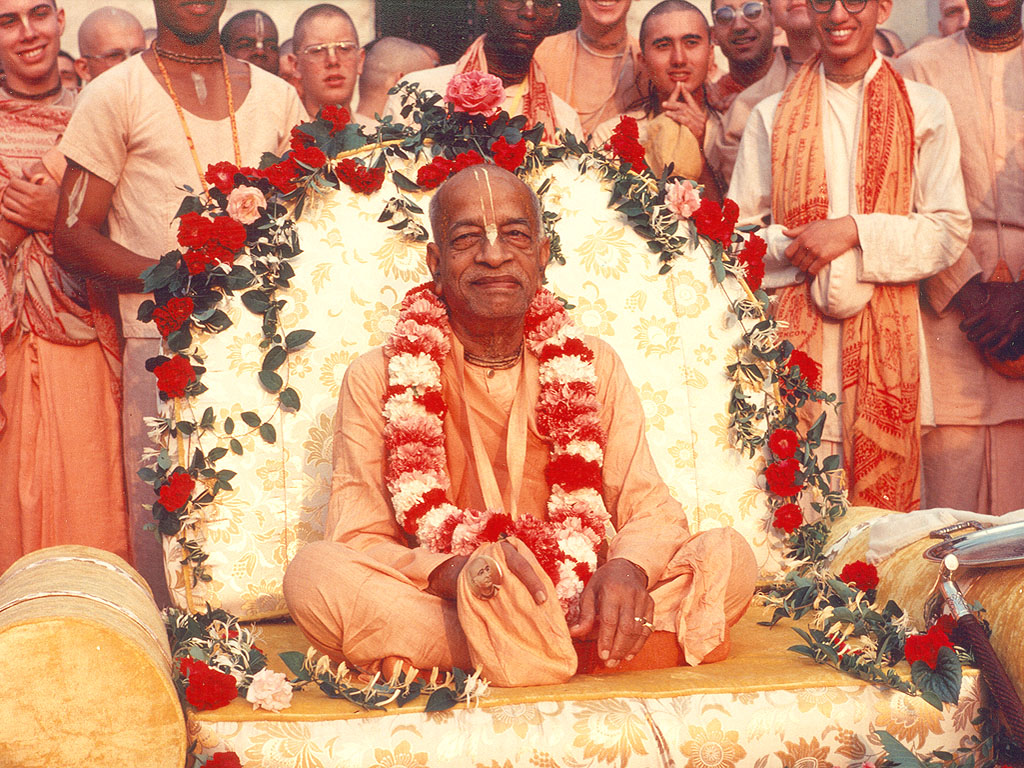 The Most Blessed Event: Sri Vyasa-Puja
by Vyasasan das
Dear Srila Prabhupada
On this most auspicious day, please accept my humble obeisance's, and kindly forgive my offences. Although I am and insignificant disciple of your Divine Grace, and full of faults, still I am constantly awaiting your causeless mercy to be bestowed upon me. I have never given up my faith, or my love, nor the hope that someday I may be a worthy disciple. As you know my daily prayers always include the words "please forgive my offences", as I am always feeling myself unworthy to be receiving your mercy. Srila Prabhupada you have been the one constant in my entire adult life, my best friend and ever well wisher. And I remain chaste to you, my lord and master, unconditionally.
Today I was reading from the Letters books, and there was one letter dated November 12th, 1968 addressed to Malati that is the basis for my offering today. In this letter you said;
"Yes, we should always think of ourselves as the most fallen, the most ignorant and it is simply by the mercy of Lord Caitanya that we have even the opportunity to serve Krsna. We have no qualification of our own; it is simply by the merciful glance of this most munificent appearance of the Supreme Personality of Godhead, Sri Caitanya Mahaprabhu, that we have been given the chance to serve Radha and Krsna"
Due to your great humility, you give the credit to Lord Sri Caitanya, but I think it is simply by your mercy that we have received the benediction of Sri Caitanya. It was you who brought a trunk of Srimad Bhagavatams to the West, to open our eyes with the torchlight of knowledge. And it was you who first brought this Chanting of the Hare Krishna Mantra to Tomkins Square Park and due to your beautiful and pure chanting of the Holy Names of God caused the young Bramananda das to dance under the Hare Krishna Tree. It was you who turned the most fallen and most ignorant western hippies into vaisnava scholars and priests. It was simply by your munificent appearance and merciful glance, that the most fallen in this age were given the chance to know Lord Caitanya, and thus were given the chance to serve Radha and Krsna.
Srila Visvanatha Cakravarti Thakura, a great acarya in the line of Sri Caitanya Mahaprabhu has written, "By the mercy of the spiritual master, one receives the benediction of Krsna. Without the grace of the spiritual master, one cannot make any advancement" Therefore, without your help, no one can become free from the cycle of repeated birth and death.
So on this Most Blessed day, Your Appearance day celebration, Please accept my humble obeisance's again and again, kindly forgive my offences, and continue to guide me as my captain with your books,as maps, to steer me through the rough waters of this dangerous age of Kali
Begging to remain your eternal servant
Vyasasan das